Create availability calendars
Present your website visitors with a clean and user friendly availability calendar that's simple to set up, easy to manage, and easy to embed on your website.

---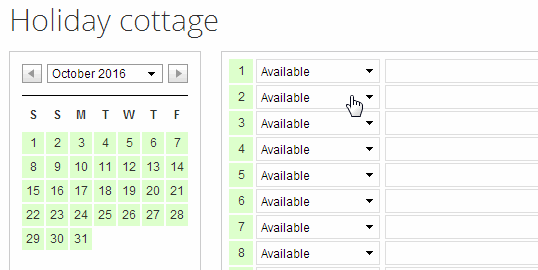 It's easy to manage
You can easily manage all of your availability calendars from your account. You'll have your calendars updated in seconds! Simply log into your account, click on a calendar, and start editing the home's availability! You can also save booking information!
---
Embed on your website
Embedding a calendar on your website is very simple. It's just like embedding a video from YouTube or a map from Google Maps! Set some options, grab the embed code, paste it on your website, and voila!

---
You can even display a whole year!
Choose between a monthly or yearly overview.
---
Combine multiple calendars!
With our 'Multiple Calendars' setting you can combine multiple calendars into one calendar.
---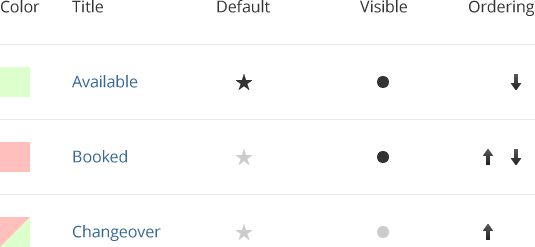 Create your own legend
Apply your own colours, symbols, and text and translate them into any language. You can even use split colours. You can create a different legend for every calendar.
---
Change the first day of the week

When you embed a calendar on your website, you can select which day you'd like to appear first.

Save booking information

Keep track of your bookings! You can add and save your notes for each day on your calendars.

Add users to calendars

You can add users and assign them to one or more calendars. They will only be able to edit their calendar.

Show or hide booking history

Don't want your visitors to see the booking history? You can hide it from your visitors.

We host and backup it for you

Don't worry about PHP, databases, and back-ups. We'll make sure it keeps working.

We're always here to help

We hate your complaints as much as you do. We promise that we'll get back to you quickly.
---
Export all of your calendar data!
Your data is yours! You can easily export all your booking data from all your calendars. To Microsoft Excel, for example!

---
Sync your calendars
Do you have a listing on FlipKey, Airbnb or other sites? We provide an .ics (iCal) link.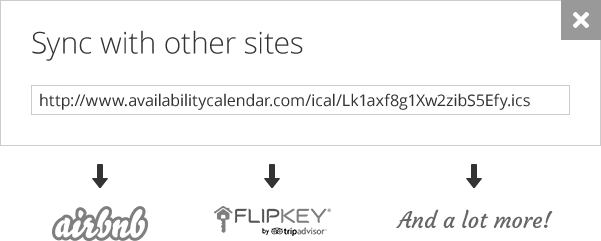 ---
"Excellent response and support from the developers who got me up and running quickly and efficiently."

"It's a brilliant product!"

"Excellent software - fantastic support."

"I love the widget"

"Thank you so much for your help! And thanks for the great plugin."

"Many thanks. Installed and working great!"

"superb service. MANY MANY thanks :) Highly recommended to all"

"Had an issue and was surprised to receive multiple emails from author to resolve it. Loved it!"